Steven is a lifelong resident of Michigan. As an Estate Planning attorney, he has extensive experience helping clients plan for the final chapters of their lives. He also has a very personal connection to hospice care. His father, mother, and father-in-law all died with dignity and compassion under the care of hospice.
"Every human deserves compassion and a place to peacefully transition to the next phase of their journey. We are striving to provide that place."
Steven G. Cozart
Board President
I'm a Licensed Masters Social Worker. I completed my undergraduate degree at Central Michigan University and my graduate degree at Eastern Michigan University. I became involved with hospice when I took a job as a medical social worker for a local hospice agency in 2015. After working for a hospice agency within the Genesee and Lapeer areas I have learned how much of a need there is for a hospice placement within our community. That need has motivated me to become involved in this grassroots movement to address this need which has led to the establishment of the nonprofit organization Hospice Homes of Genesee and Lapeer Counties.
Michelle Kraut
Board Member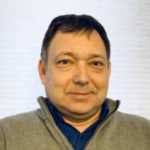 Todd is a Spiritual Care Coordinator for hospice, who has often seen the need for this type of service when working with families.
"We formally organized in 2018, and have been working steadily to see the dream come true. Nothing happens unless you take even baby steps towards it!"
Todd Regester
Board Member
Diane Welker RN, NP is a board certified hospice and palliative care nurse practitioner. She has worked at Hurley Medical Center for over 37 years.
"It is my passion to help fill the gap for numerous patients in this community who are in need of a place to call home as they struggle with their terminal illness"
Diane Welker
Board Member